When you're on a special diet due to Gestational Diabetes, eggs for breakfast can get pretty boring…fast. Something low-carb that also happens to be gluten-free (due to the ingredients), and something that resembles a dessert with a touch of caffeine would be nice, for a change.
At the very least, the hubby liked it–or, maybe he was just being nice!!! He is one smart cookie!
See? It pays to starve him!!! 😉
So, when you're feeling famished, you might want to give this recipe a try–especially if you're looking for something low-carb and gluten-free. It sounds good and it looks good.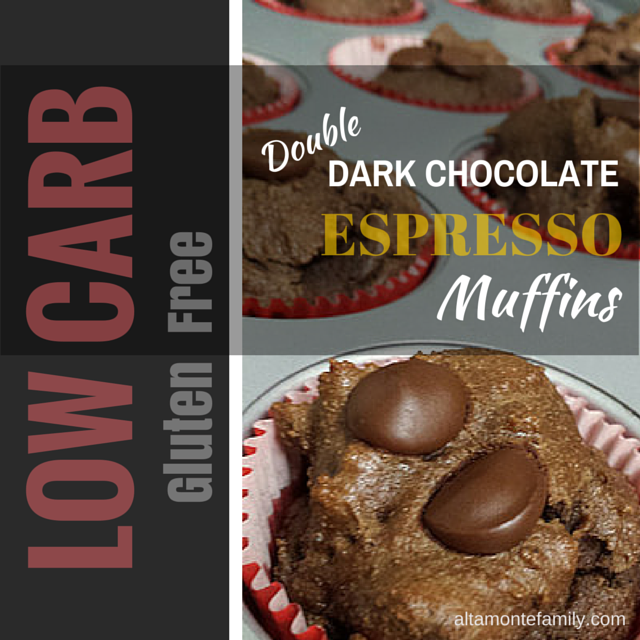 RECIPE: Low-Carb, Gluten-Free Double Dark Chocolate Espresso Muffins
This makes 12 muffins if you're using a regular muffin pan.
Ingredients
3 1/4 cup Honeyville blanched almond flour
7 heaping tsp organic raw cacao powder
2 heaping tsp fresh ground Kona coffee (we use a conical Burr grinder)
1/2 tsp baking soda
5 packets sweetener (Splenda)
1 tsp fine ground sea salt
3 large eggs, cage-free
1/4 cup unsweetened vanilla almond milk (check the label make sure it's free of any carrageenan)
1 tsp pure vanilla extract
2 tsp lemon juice
For the topping: Dark chocolate baking chips, 70% cacao (we use Ghiradelli)
Directions
Pre-heat oven to 350 degrees Fahrenheit
In a large mixing bowl, combine all dry ingredients
Fold in wet ingredients until well-combined
Carefully scoop batter into 12-cup muffin pan lined with baking cups
Add the topping
Bake in oven for 17 minutes at 350 degrees Fahrenheit
Feel free to try it, tweak it, or perhaps even share it! We're thinking of possibly substituting coconut oil for one of the wet ingredients in our next iteration. If we succeed, we will be sure to let you know!
Have a great weekend!
Disclosure: As of the time of writing this post, AltamonteFamily.com is by no means affiliated with any of the companies or organizations mentioned in this article. AltamonteFamily.com has not been compensated in any way nor has AltamonteFamily.com been influenced to write about these products. This post is a result of the personal observations and independent research of members of AltamonteFamily.com. All opinions solely belong to AltamonteFamily.com.