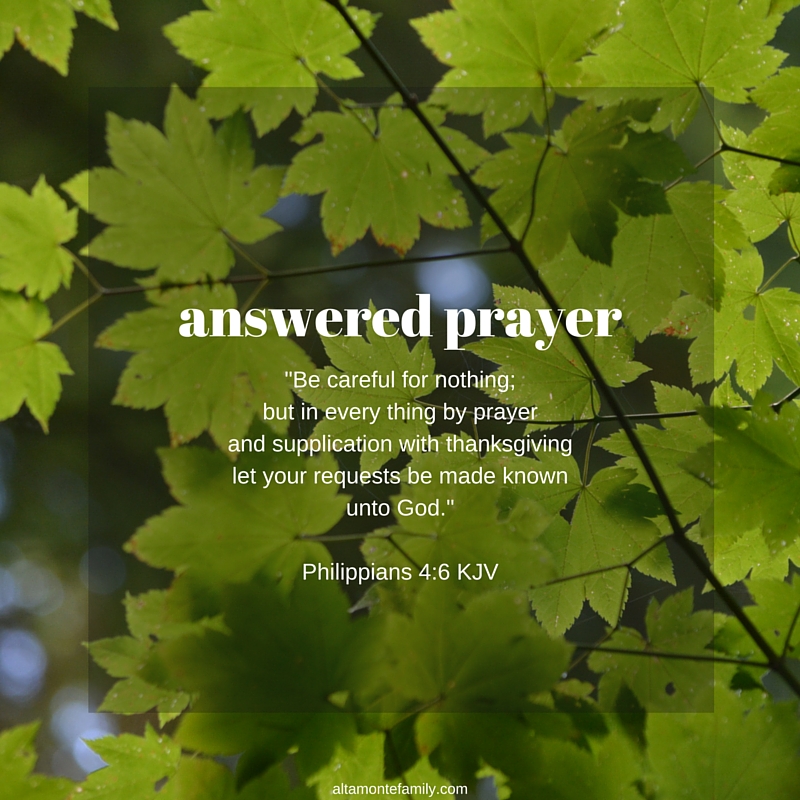 Do you have a longstanding prayer request?
I'm here to share a testimony of an answered prayer.
A little over 3 years ago, we emptied out our home, thinking we were going to sell it, rent it out, or just let someone house sit for a while (following our decision to move away temporarily). God kept on hindering our attempts to "let go" of our house (it never went on the market), always providing a way for us to keep and maintain it along the way. We've since started calling it our "House of Praise", always logging God's goodness to us during each visit. Up until this morning, we didn't know what we were going to do with our house, yet we remained thankful and continued to call upon God for His guidance, His timing, His way, His provision. Soon after saying "Amen" yesterday afternoon, my husband received a text message from a church friend asking if we would consider renting out our home to a young couple and their little children. As it turns out, we know the couple's parents and we met the young couple and their baby two years ago. They've been trying to look for a place now that they're back in town and God has been constantly shutting doors on rental possibilities… until they took a shot at contacting us. We received the confirmation just this afternoon: we will have renters soon! Isn't it amazing how God works?
We pray that our home will be a blessing to them as it was to us.
We will always remember our old home as our "House of Praise".
The kids looked at me, asking where we're going to be logging our praises from now on…
…A special place to log our praises…
I looked at them and smiled…
Maybe God will give us a tree house one of these days and we'll call it the "Tree House of Praise".
It's always encouraging to receive an answer to prayer, regardless if it's a longstanding prayer request or a new one. Each day, I would ask God to send encouragement along the way, and He always does! I must remember to ask Him to use me to encourage others just as much (if not more) as I would ask Him to encourage me.
Let's be encouraged that God does hear us–He hears our prayers, He knows our hearts, He knows our needs… and He does answer our prayers.
Rejoice in the Lord always: and again I say, Rejoice. Let your moderation be known unto all men. The Lord is at hand. Be careful for nothing; but in every thing by prayer and supplication with thanksgiving let your requests be made known unto God. And the peace of God, which passeth all understanding, shall keep your hearts and minds through Christ Jesus.

Philippians 4:4-7 KJV
---
Take action: If you've long been awaiting God's answer to your prayer, don't be dismayed, don't grow weary… rather wait on the Lord, be of good courage, and He shall strengthen your heart (Psalm 27:14)! Let's not be tempted to give up the day before God blessed. Let's not get ahead of God. He will answer. He will provide! My friend, if you feel as if you've lost hope–know that you haven't. Find hope in God today and invite Him into your heart! He is waiting to heal you, to pick you up and take care of you. He will carry you through. This page tells you how you can become a part of God's family and be His child. You can become a child of the King today!