If you've just been recently diagnosed with diabetes, pre-diabetes, or gestational diabetes (like I did when I was pregnant last year), I'm here to encourage you and give you a glimpse of my lifestyle, particularly my food choices and how I manage hunger. If you've been following our blog long enough, you probably already know about my Glucerna® 3-month challenge (I'm currently on month #2!). The options for a diabetic-friendly diet don't have to be boring–given some research, trial and error, experience, and good advice. Speaking of advice, it's always best to first check with your healthcare provider or nutritionist regarding which diabetic-friendly lifestyle works best for you.
My 20 Diabetic-Friendly Must-Haves
While this list barely scratches the surface in terms of my recent diabetic-friendly diet food choices, I hope that it will provide inspiration as well as offer a good head-start to help you in your diabetic journey. Moderation and balance are key. If you know someone who has diabetes, feel free to share this list!
Low Carb Tortilla
The applications for low carb tortilla are endless! Think quesadillas, burritos, thin-crust pizza, low-carb wraps, and more! We prefer the low carb tortilla with added flax, protein, and fiber.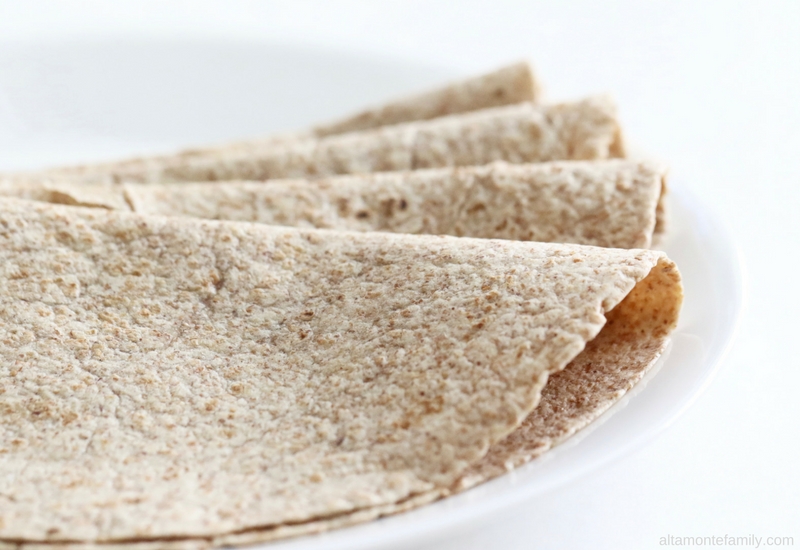 Recently, we made some low-carb Mexican lasagna using our preferred tortilla! It turned out pretty good! We'll be sharing the recipe with you soon!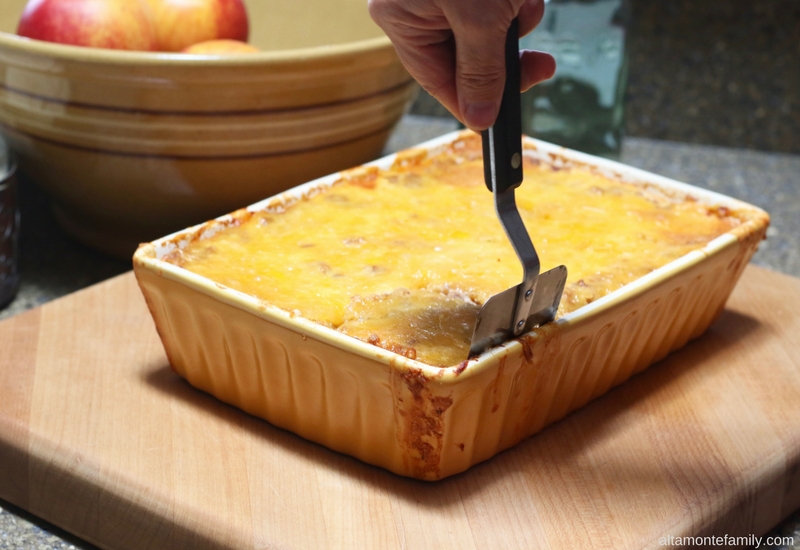 Mason Jars
Mason jars have proven useful for managing hunger, especially when they've been filled with delicious, diabetic-friendly food ahead of time!
This mason jar is filled with that low-carb Mexican lasagna that I just told you about. I know it doesn't look all fancy and layered–but that's how I prefer to enjoy my lasagna. Of course, there's always the option to layer everything nicely (or even bake in the mason jar), but I'm not one to enjoy mixing things up in a small, pint-sized container. Anyway, this is one of my favorite on-the-go meals!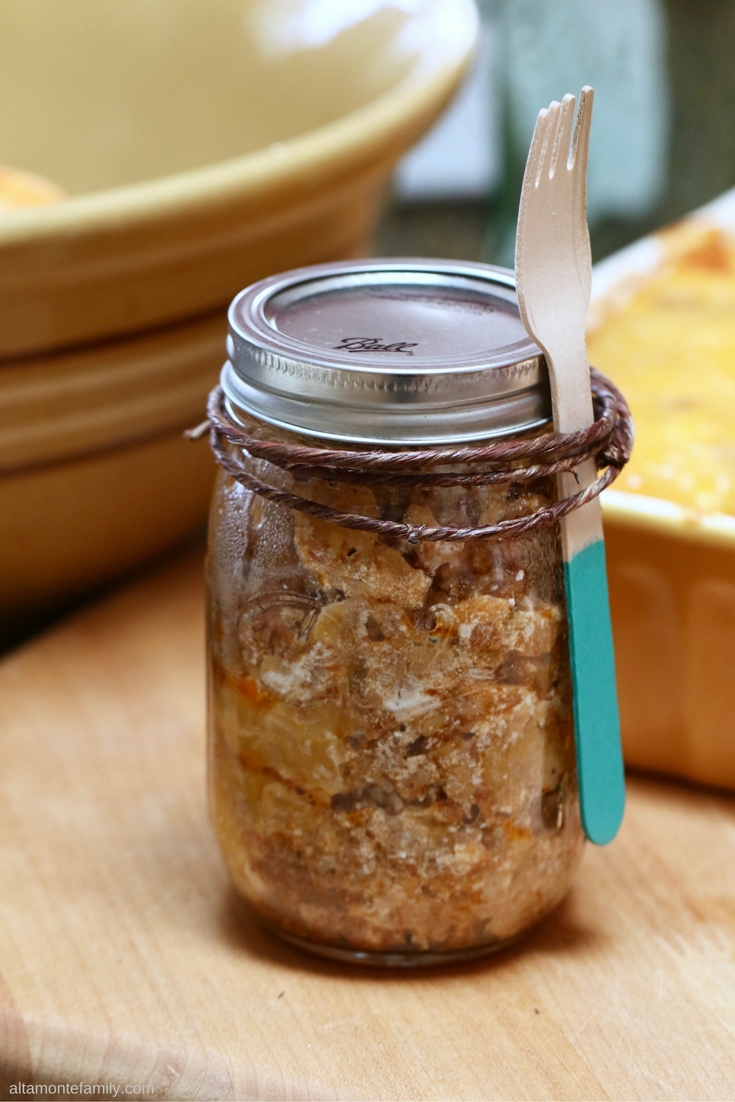 Mason jars are also great for making overnight oats, like our Spirulina Overnight Oats! This make-ahead breakfast recipe is an awesome time-saver, especially for those busy, hectic mornings.
Organic Cage-Free Eggs
We can't possibly hit the grocery stores without coming back with a tray or two of organic cage-free eggs! From hard-boiled eggs to help tide you over to the next meal to breakfast omelets, scrambled eggs, and more, eggs are a high protein, low carb way to fuel your day.
This low-carb breakfast omelet is made with leftover toppings from a game day party–think pico de gallo, onions, and diced mangos and avocado!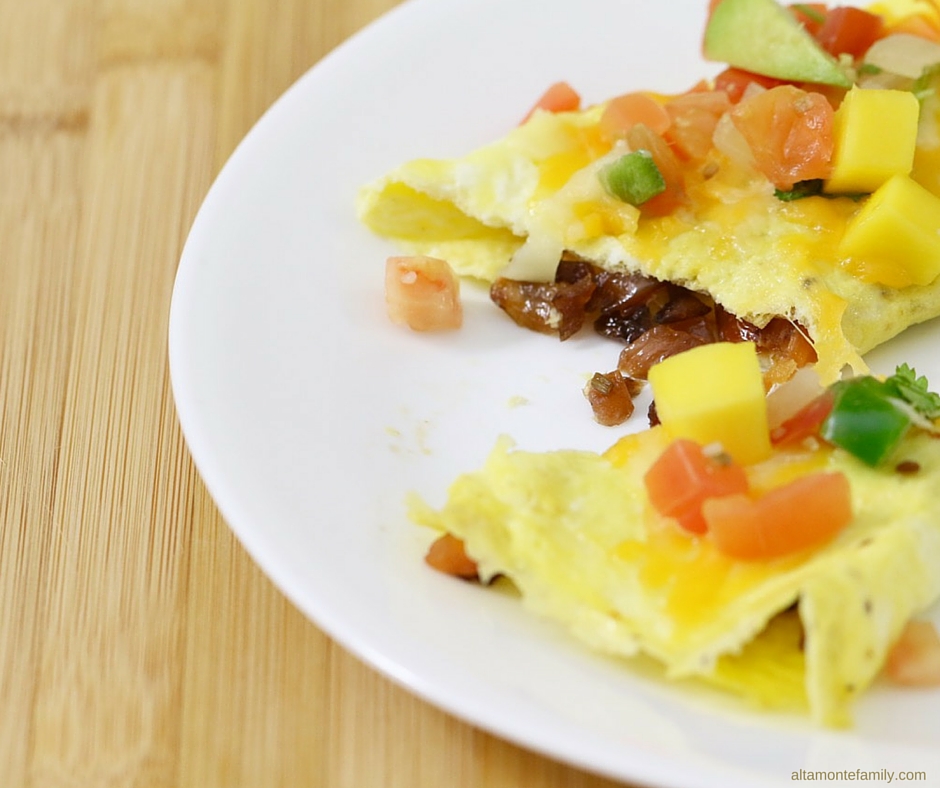 Coconut Flour
If you like green eggs and ham, then you just might like these green pancakes with kimchi and organic toasted sesame seeds! We use coconut flour for a lot of different recipes, including waffles, no-bake protein bars, and baking recipes.
If you still can't get over the green color of these pancakes, it's made with spiralina.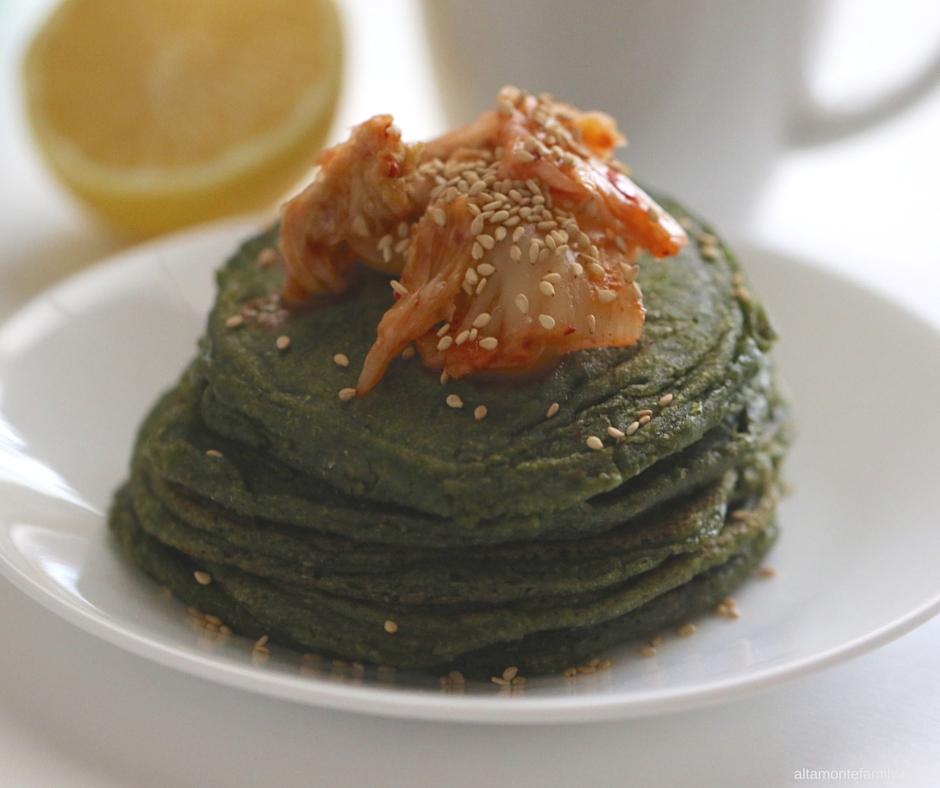 Almond Flour
Almond flour is another favorite in our home. Here are a few of our favorite recipes:
Agave Nectar
Agave nectar is most definitely a staple in our home. It's a great-tasting low glycemic alternative to sugar (and honey). I like to top coconut flour waffles with agave nectar, fresh fruit, organic coconut flakes, and raw cacao nibs (or mini dark chocolate morsels).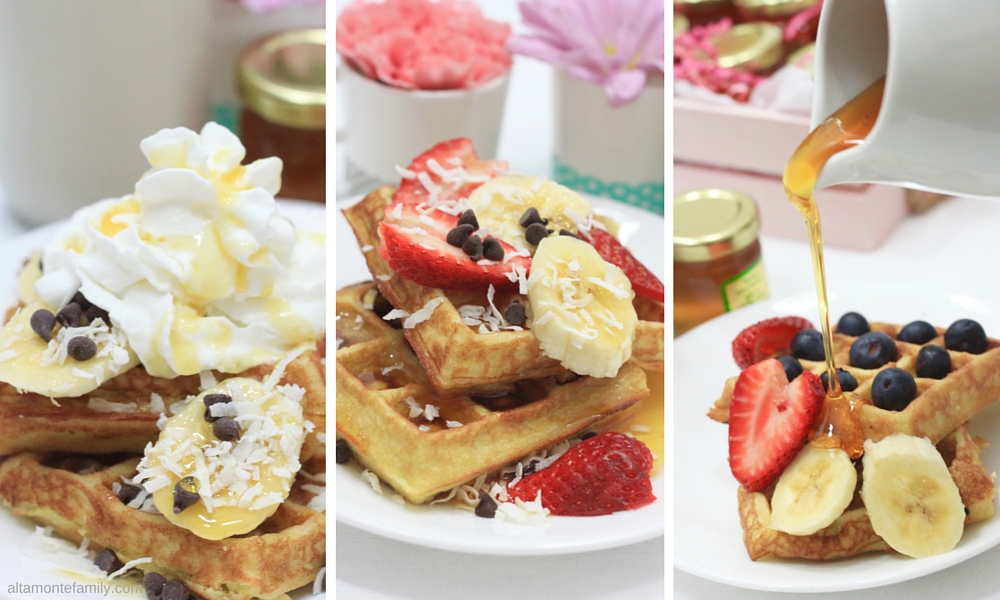 Ground Beef (or Ground Turkey)
Having deliciously seasoned ground beef (or ground turkey) readily available has always been a lifesaver. Making taco beef is one of our favorites because it's pretty versatile and can be used in several different recipes in a pinch!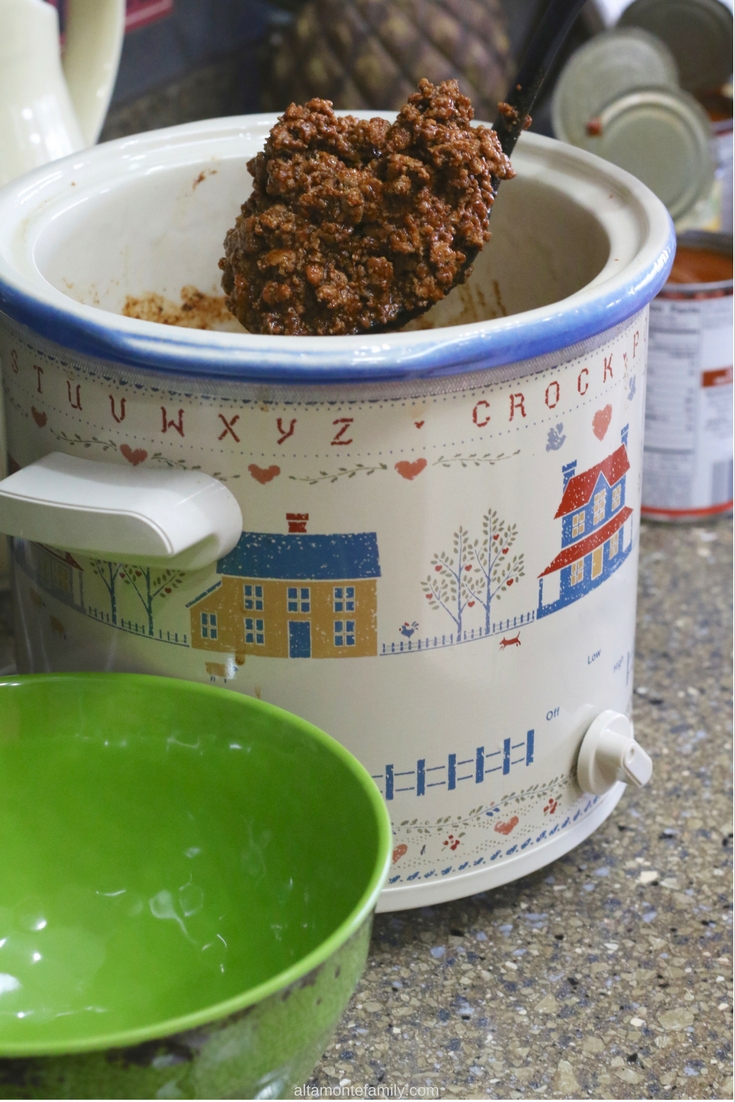 Pairing the taco beef with low-carb tortilla chips (just a few) to make nachos not only makes for a quick, tasty snack… it's also great for last-minute entertaining!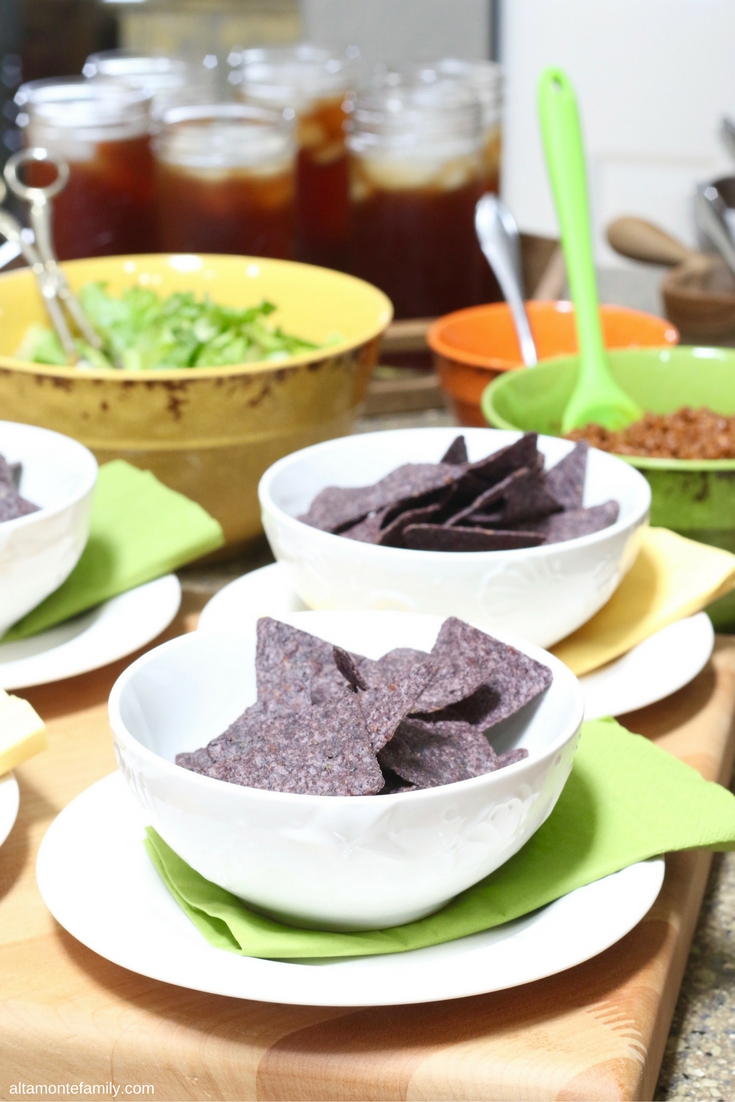 Greek Yogurt
Greek yogurt is a great substitute for sour cream, and it comes with more protein! We used it (along with that taco beef mentioned above) to make this easy taco soup.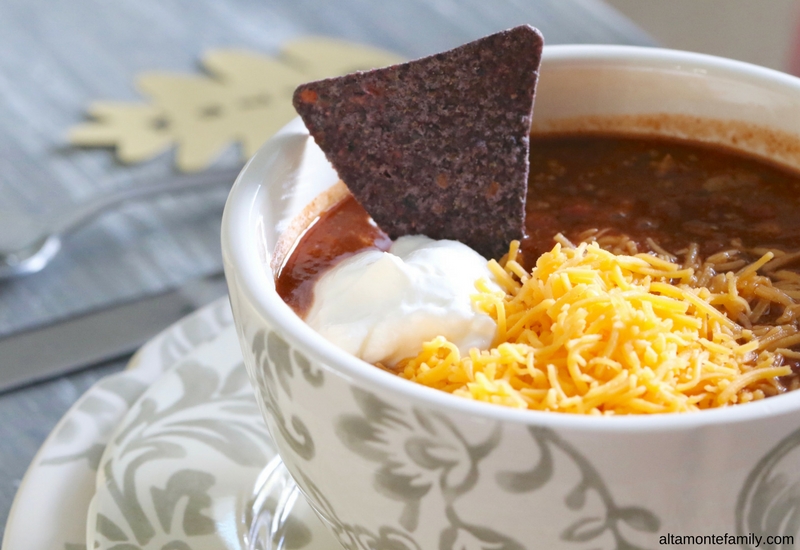 Cheese
To keep things interesting, we keep a variety of cheeses available in our refrigerator: from Gruyere cheese for our French onion soup (without the French bread, or just a little) to cheese sticks for easy snacking to a variety of sharp cheeses to make this Queso Fundido!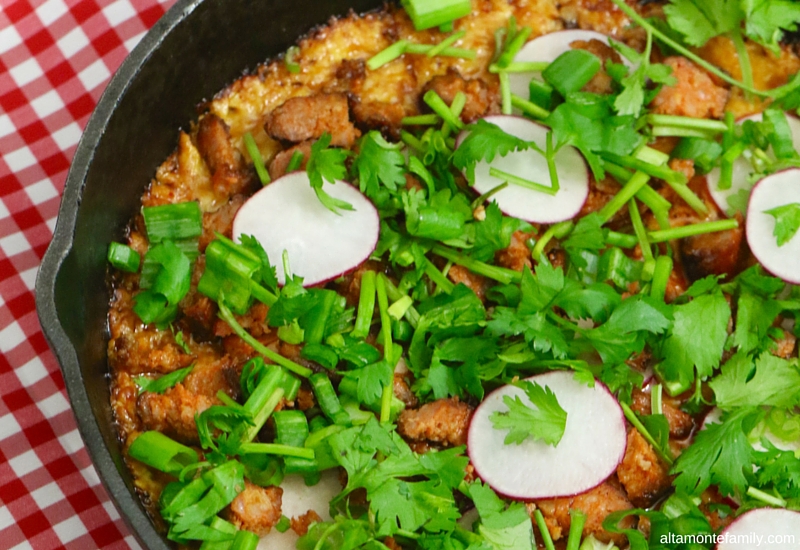 Cottage cheese is also great to have around. It's high in protein!
We also experimented with sharp asiago cheese to make this pea salad and it turned out pretty yummy! Hey, it's okay to make pea salad even when it isn't spring time yet, right?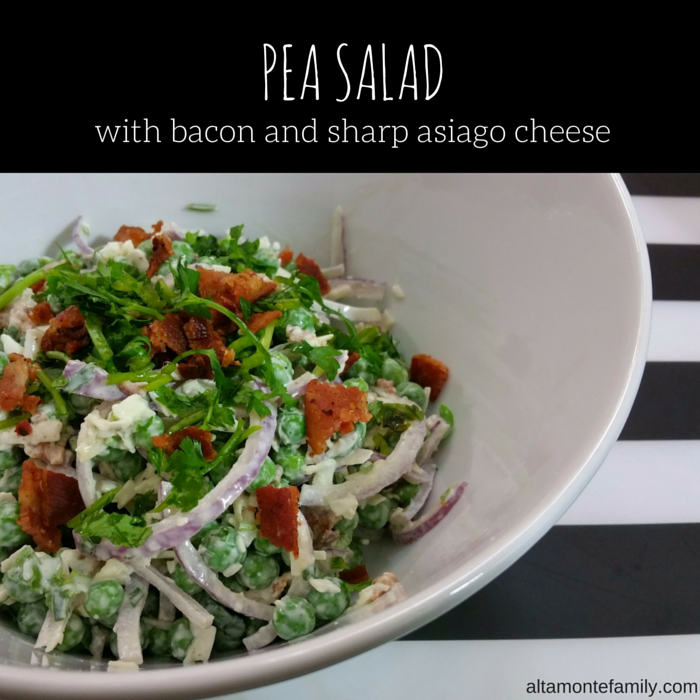 Fresh Produce
Okay, let's not forget about the fresh produce, of course. In-season fruits and vegetables are always preferred… then there are the "staples". Take organic grape tomatoes, for example. They're perfect for snacking! Easy "pack-and-go" fruit like organic apples and nectarines are also a family favorite.
When we've got a little extra time in our hands, we get to make this refreshing papaya fruit bowl!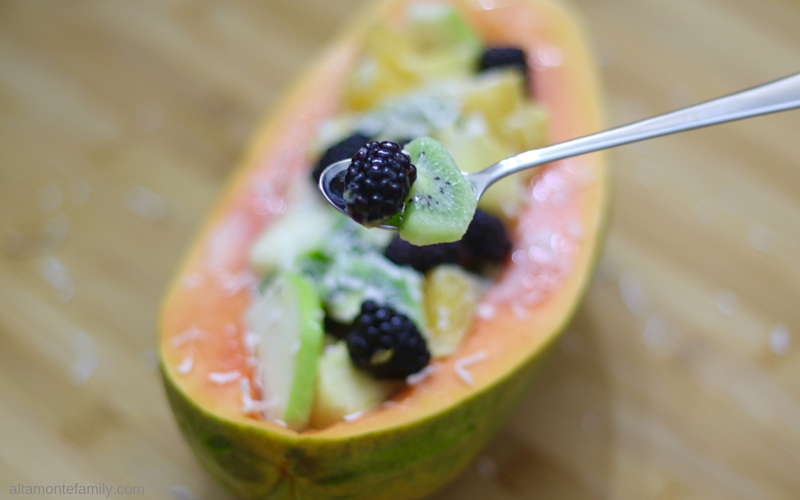 Organic Dried Golden Calimyrna Figs
This one's a new favorite. It's a great way to naturally sweeten smoothies! We also like to pack them along when we're on the go because a fig or two gives you just the right amount of sweetness, and they're quite satisfying! We like the no-sugar added, organic dried golden Calimyrna figs from Costco.
Organic Raw Cacao Powder
If you love chocolate, then you might want to keep some organic raw cacao powder in your pantry. It does keep for quite some time and makes delicious homemade chocolate coconut granola protein bars (no-bake!), muffins, shakes, and so much more.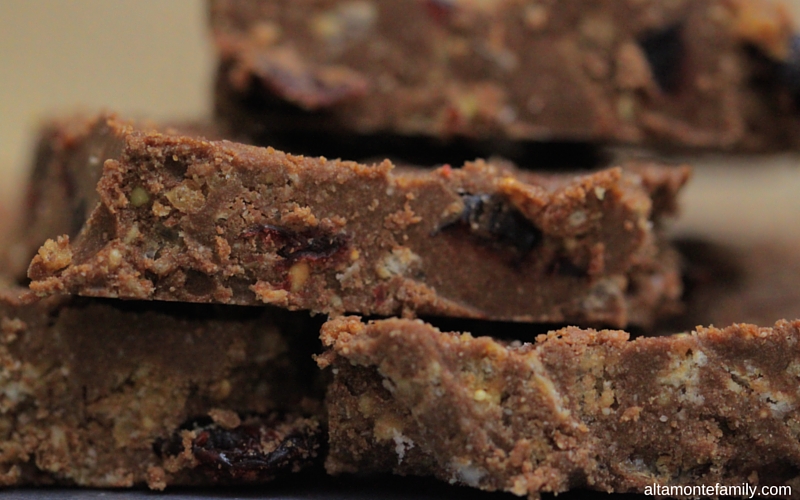 These Gluten-Free Chocolate Walnut Muffins made with organic raw cacao always hit the spot–breakfast or otherwise!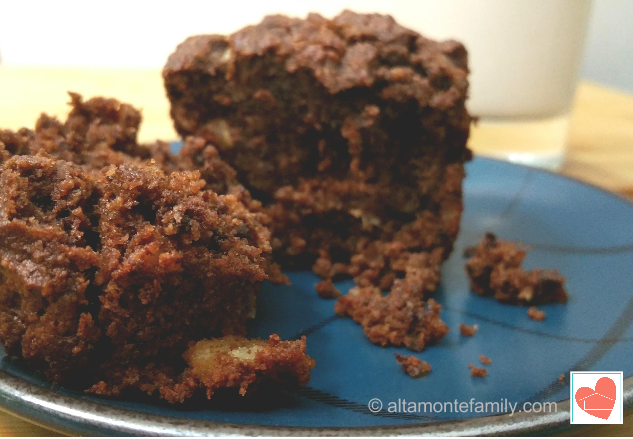 Nuts and Seeds
Nuts and seeds like almonds, walnuts, and pumpkin seeds are always good to have! Pumpkin seeds are our favorite, especially the organic, raw, shelled ones. They're high in protein!
We also keep some chestnuts on hand, especially when the season calls for them! They're great for making Chocolate Chestnut Mini Muffins (note: skip the caramel glaze to make it diabetic-friendly).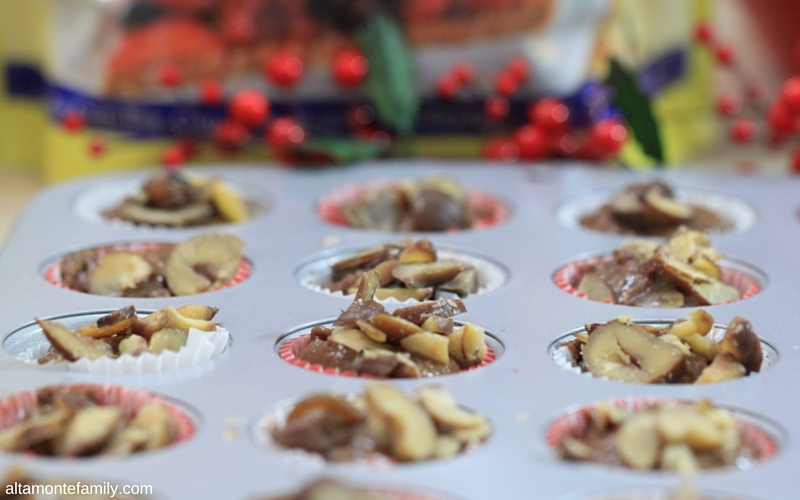 Unsweetened Organic Coconut Flakes
For some added texture and flavor, you can't go wrong with unsweetened organic coconut flakes! We like them both toasted and untoasted. How about treating yourself to this Coconut Mocha Banana Smoothie? To cut back on the sugar even more, simply substitute raw cacao nibs for the mini dark chocolate morsels.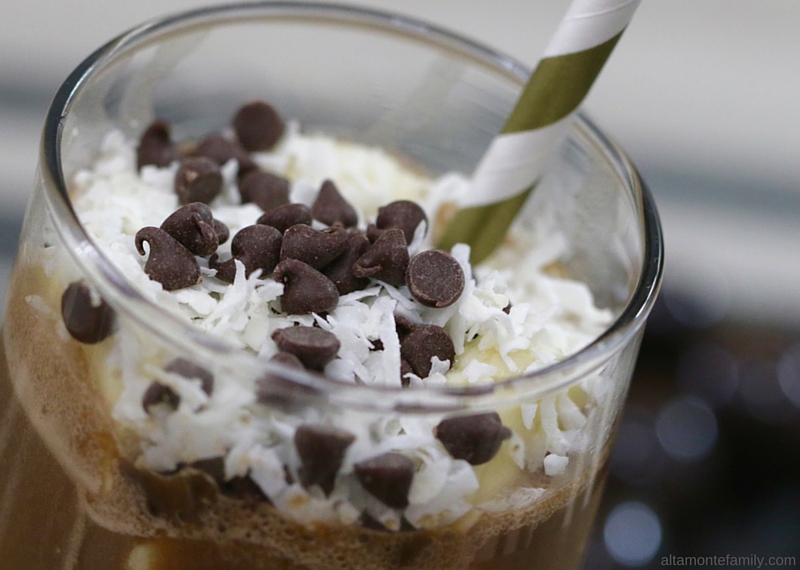 Frozen Treats
From my experience, it always helps to have better-for-you treats readily available. Sometimes, I like to add a little extra texture and crunch to my favorite frozen treats. Simply dip no-sugar-added fruit pops into a glass of Greek yogurt, top with granola, raw cacao nibs (or even unsweetened organic coconut flakes), and freeze for about 4 hours. Yummy!!!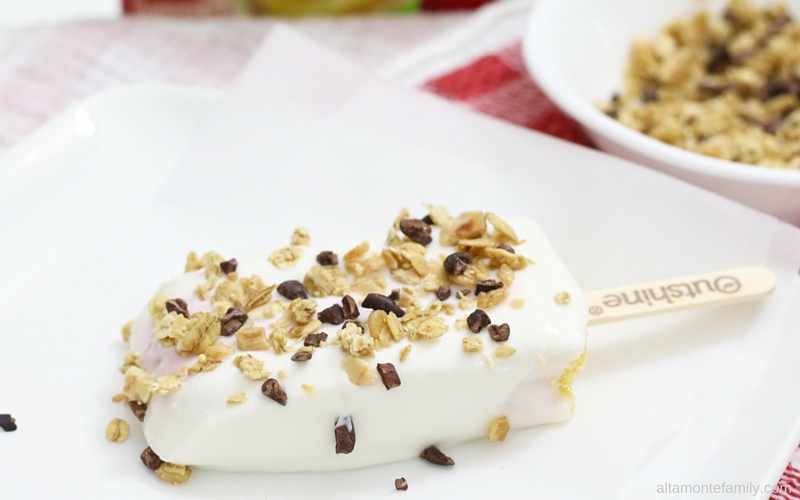 Coconut Oil
You've probably heard about the many benefits of coconut oil by now, so we won't get into that topic over here. We do prefer the organic, cold-pressed extra virgin coconut oil for baking and cooking.
Avocado Oil
If you haven't heard about using avocado oil for cooking, you might want to look into it. Besides its health benefits, we like it for its high smoke point.
BPA-Free Glass Bottle
Staying hydrated is very important–and we all know that! Remembering to stay hydrated is another thing. Over time, I've made a habit out of keeping a BPA-free glass bottle by my side. Sometimes, I like to mix in some Vitamin B12 powder in there for that much needed boost of energy.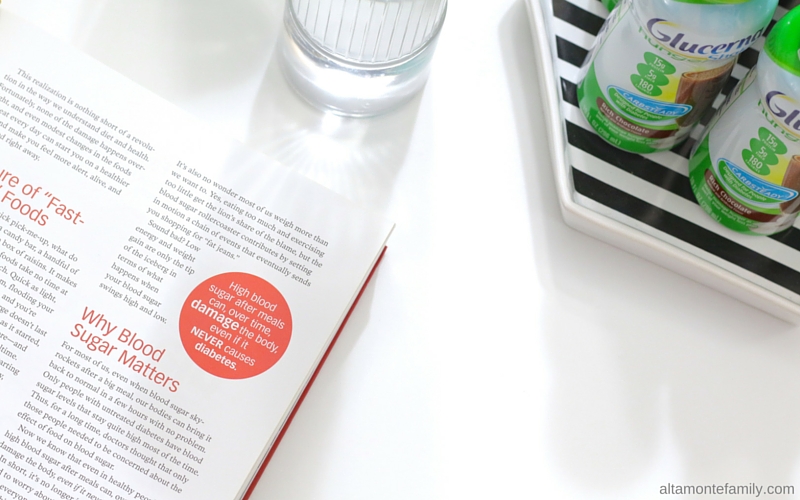 Diabetic-Friendly Shakes and Snack Bars
Of course, my favorite Glucerna® snacks and shakes are always worth mentioning*. After all, I recently participated in a Glucerna® 3-month challenge!  Feel free to check out my other diabetes-related posts: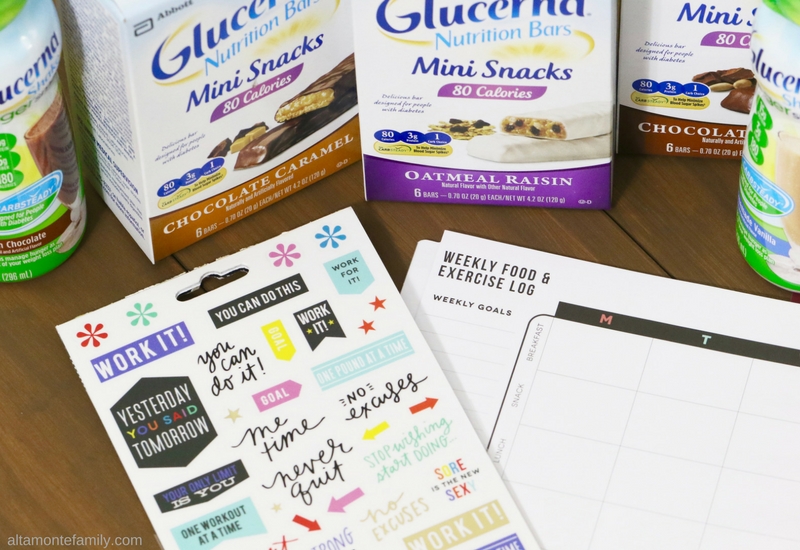 Fitness Planner / Journal
In case you missed it, I included a link to a free printable blood sugar log, above. It's designed to fit The Happy Planner! I love the Fitness insert becomes it comes with a weekly food and exercise log.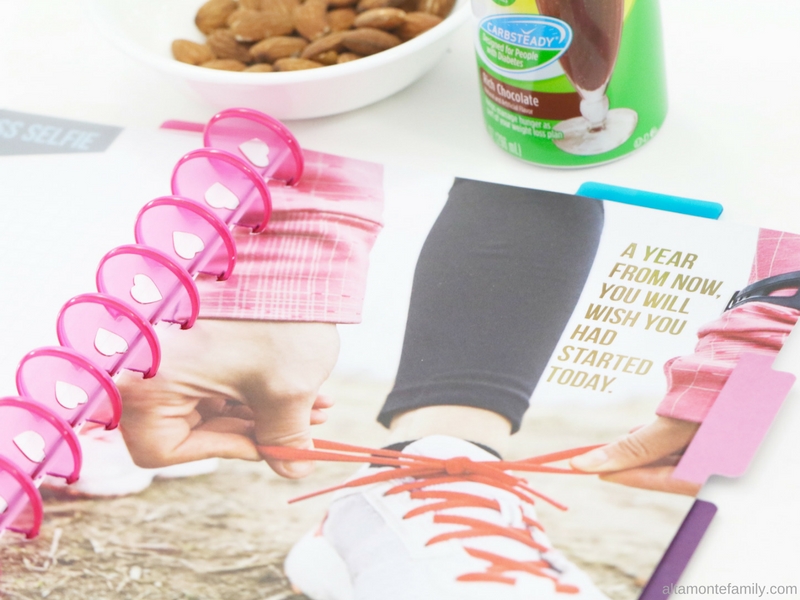 You've made it to the end of the list!!! Thanks for reading along; I certainly hope you were inspired by the ideas that I just shared. I'm always happy to learn about others who also have diabetes, pre-diabetes, or gestational diabetes, and what they're doing to help them with their journey. Feel free to leave some comments or find us on Facebook or Instagram to connect and share! If you know someone who has diabetes, we'd love for you to share this post with them (or feel free to pin it for later).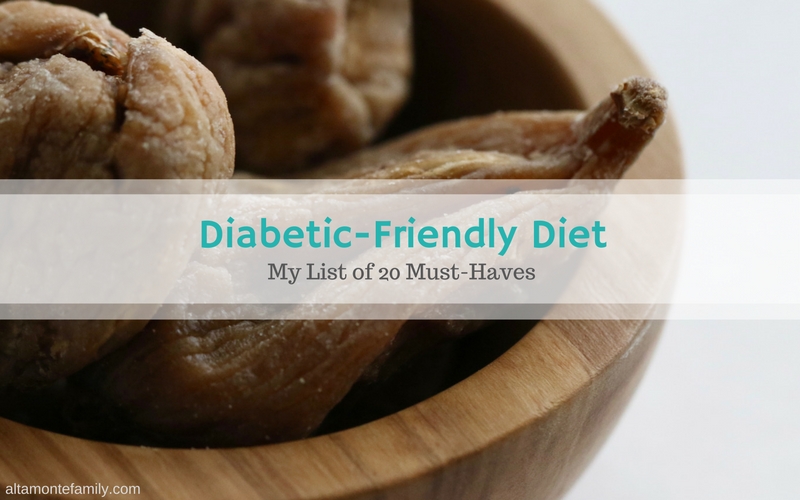 *Use under medical supervision. Do consult with your healthcare provider or nutritionist regarding which diet / lifestyle is appropriate for your condition.
---
We're Social! If you liked today's post, feel free to share, bookmark, or pin it! Follow us on Pinterest, Facebook, and Instagram for more updates on our latest projects and adventures.